Get the Railway Interchange 2017 Mobile App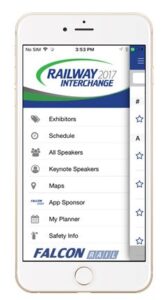 Looking to stay in touch — and up-to-date — with what's happening at Railway Interchange 2017 using your mobile device? Download the official RI17 mobile app to access search and planning tools to maximize your time before and during the event.
RI17 Event App Features Include:
Floor Plan
Exhibitor Listings
Schedule
Keynote & Other Speakers
Maps
Personal Event Planner
Event & Local Info
Twitter #RailwayInterchange
"Buzz"
QR Reader
Personalize Your Experience Using the Mobile App
Log in to the mobile app with your Email & Password to sync your planner across multiple devices. Logging in also allows you access to the Photo Booth feature!
Read FAQ and watch introductory videos to learn how the RI17 ChirpE-powered event app can help you manage your personalized planner.